Pamela Zero offers workshops and lessons in both fiction and non-fiction writing.
Her next workshop is the following: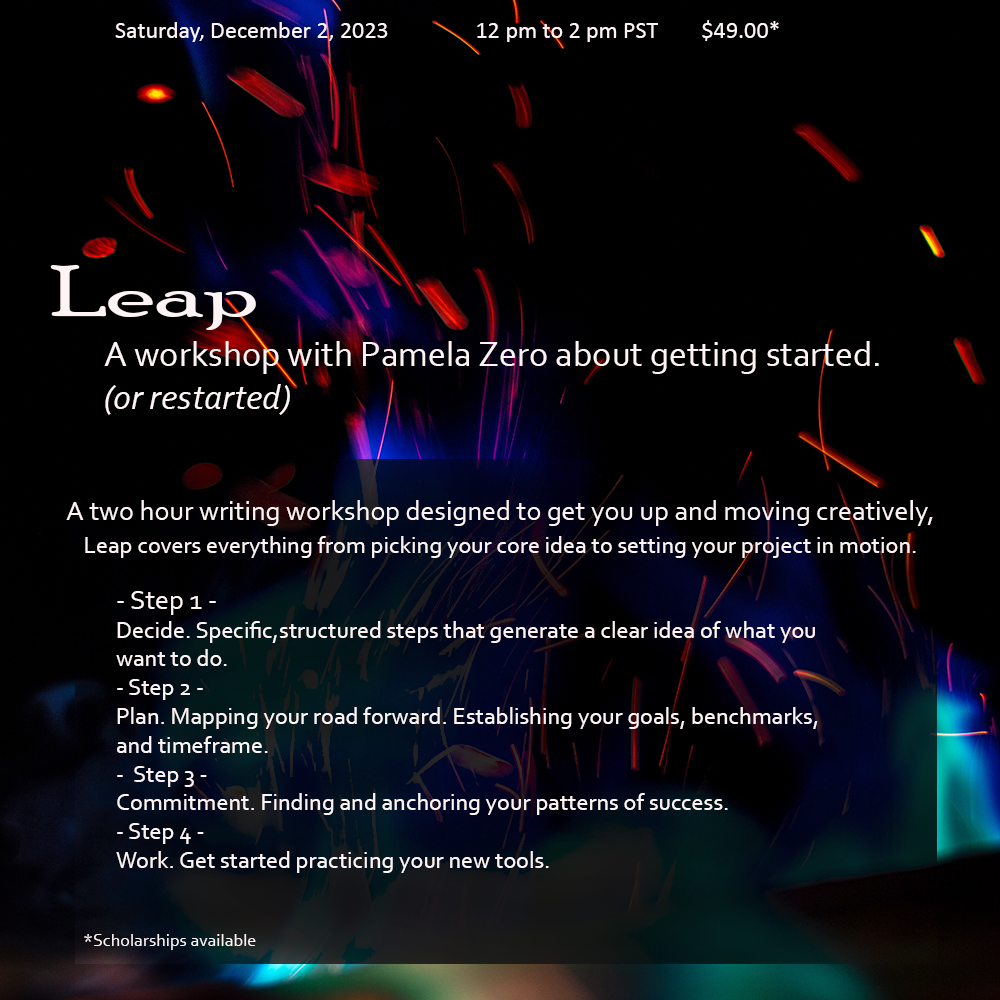 Leap
This 4 hour workshop is all about beginning - and restarting. Get yourself up and moving creatively. 
- Step1 - Decide. Specific,structured steps that generate a clear idea of what you want to do.
- Step 2 - Plan. Mapping your road forward. Establishing your goals, benchmarks, and timeframe.
- Step 3 - Commitment. Finding and anchoring your patterns of success.
- Step 4 - Work. Get started practicing your new tools.
Check back for schedules for the workshops below, or reach out.
Character Development Workshop
This 2 hour workshops takes a hard look at one of your existing characters. Motives, habits, relationships, internal drivers, external triggers - everything that makes up your character , whether or not it's actually on the page.
Environment Building Workshop
This 2 hour workshop gives you the tools to build a viable environment for your story to live within. From cities to planets, define your core aesthetic, spacial ground rules, relevant character/environment interactions, and exactly how to describe your world to the reader.
1 on 1 Book Editing
Work privately with Pamela to move your book to completion. Whether you're just starting your outline or need to track down the unfinished threads in a completed novel, one on one is the most effective way to advance as a writer. With regular meetings and written feedback, you'll be able to work at your own pace.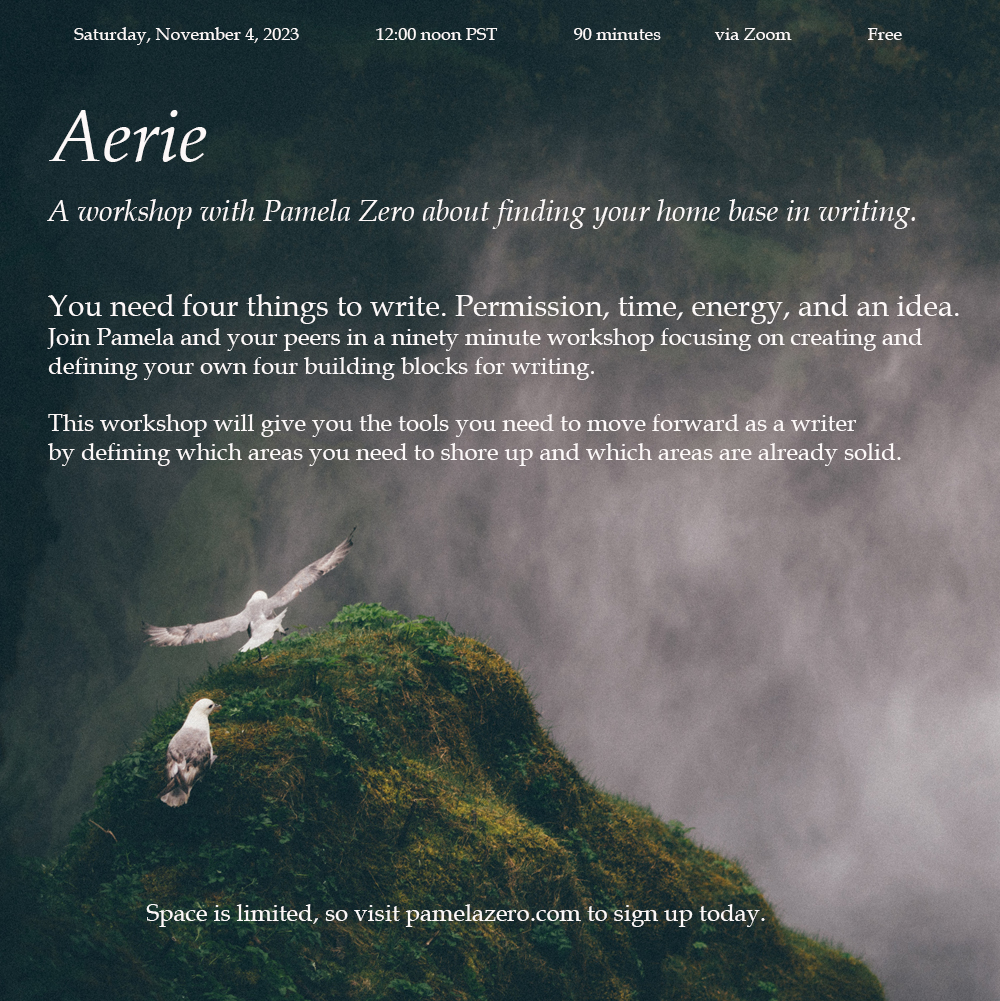 You need four things to write.
Permission, time, energy, and an idea.
Join Pamela and your peers in a ninety minute workshop focusing on creating and defining your own four building blocks for writing.
This workshop will give you the tools you need to move forward as a writer by defining which areas you need to shore up and which areas are already solid.
Saturday, November 4, 2023     12:00 noon PST     via Zoom        Free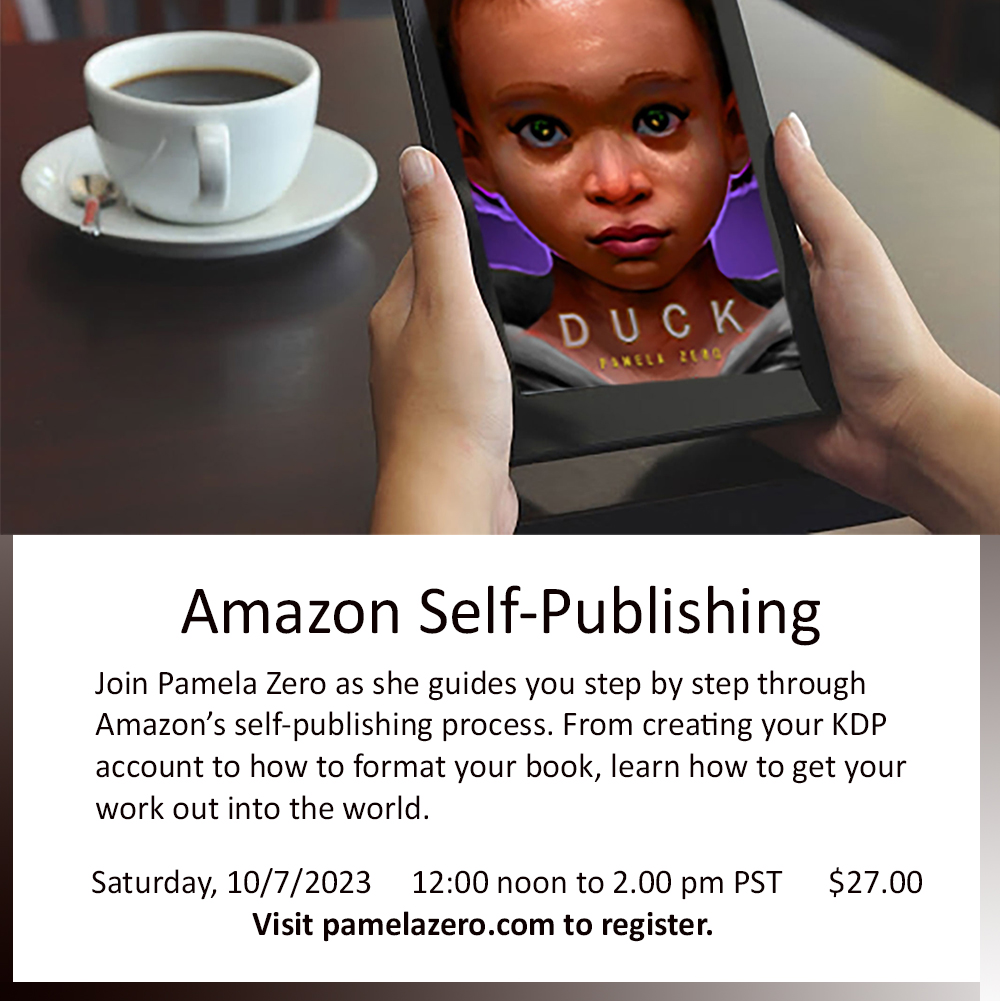 Amazon self-publishing is a fantastic way to get your work out into the world. This two hour workshop focuses on the steps needed to publish your work, including paperback, hardback, and subscription models.
You'll receive the following:
A checklist detailing each step and what you'll need.

A copy of the workshop recording to review the information

Access to the workshop Discord channel to ask questions going forward.
Join me on Saturday, October 7th from 12:00 noon to 2 pm PST.
The cost of the workshop is $27.00, however please reach out if you need one of the three scholarships that are available.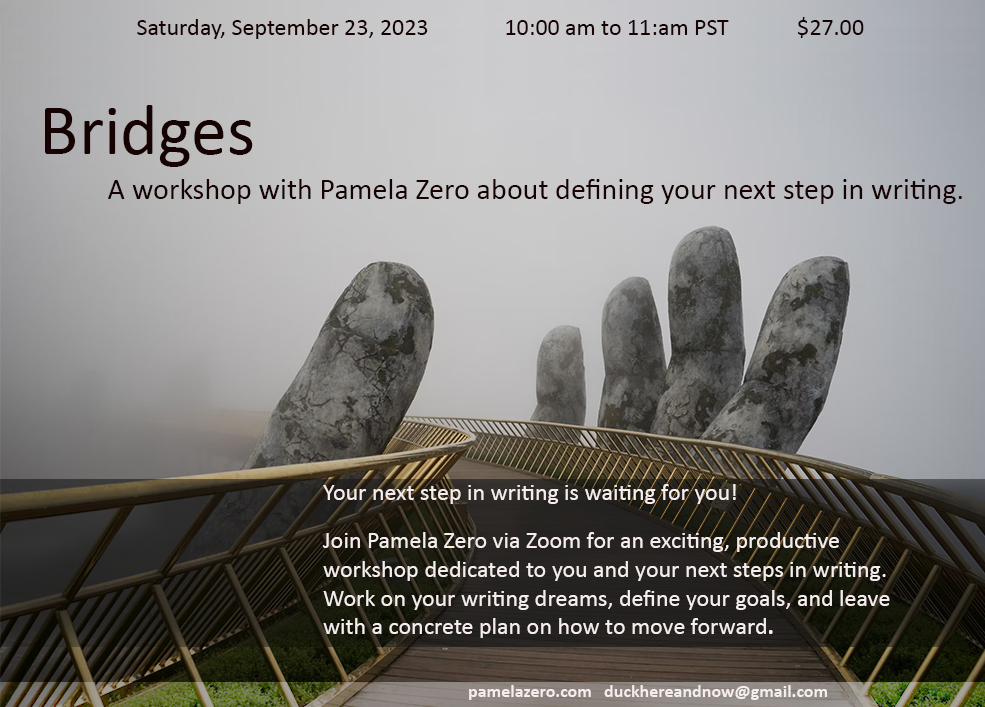 Bridges
This 1 hour workshop is all about your next steps as a writer.  What moves you forward? What are your success patterns? And what specific actions will take you to your next level in writing?
There's no better expert than you when it comes to figuring out what makes you tick. Bridges is all about identifying your winning habits and what works best for you.  Come join me, Pamela Zero, and other writers as we create concrete, doable next steps to take us onward on our writing journeys.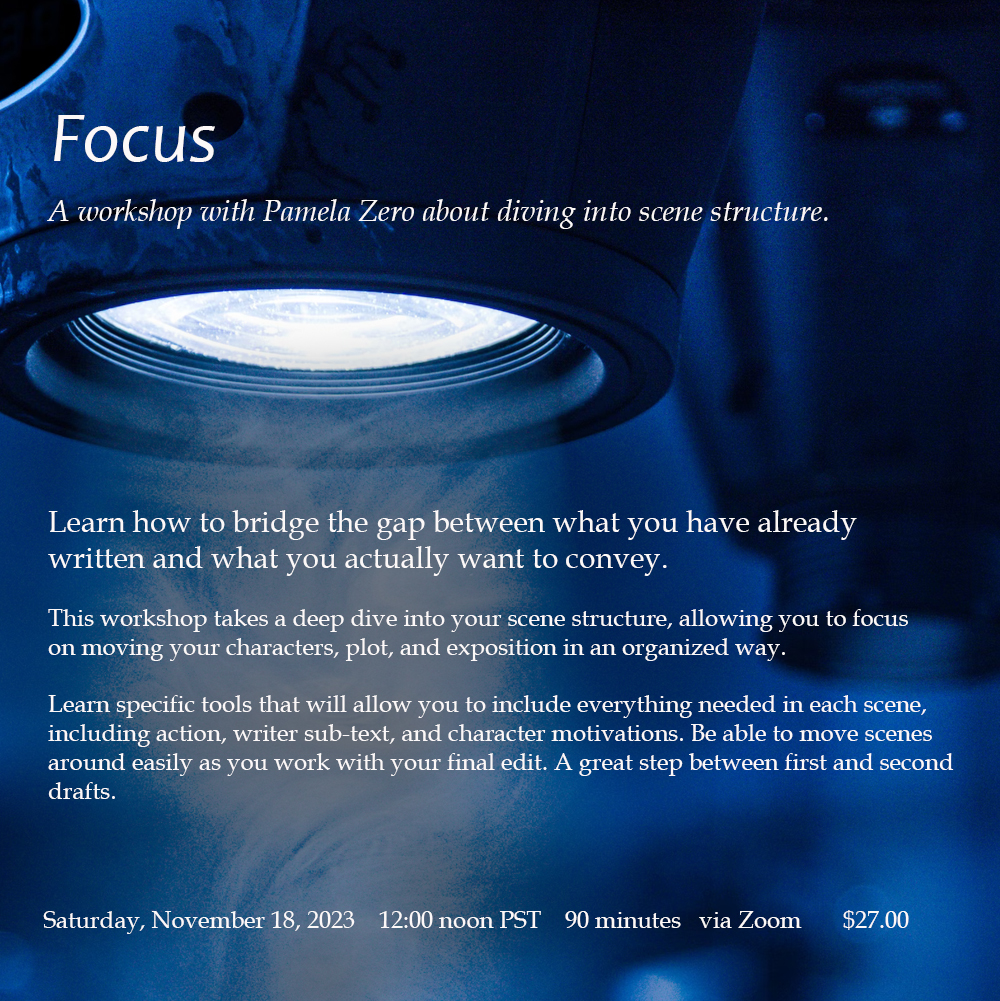 Focus
Learn how to bridge the gap between what you have already written and what you actually want to convey.

This workshop takes a deep dive into your scene structure, allowing you to focus on moving your characters, plot, and exposition in an organized way.

Learn specific tools that will allow you to include everything needed in each scene, including actions, writer sub-text, and character motivations. Be able to move scenes around easily as you work with your final edit. A great step between first and second drafts.
Forge
A 3 hour workshop that focuses on the structure of short stories. Learn how to write them, including how to develop characters, what steps to take to immerse your reader quickly, how to make your reader care about your characters, and how to craft the perfect ending.
Bring one of your existing stories (under 3,000 words) and be prepared to write the outline of a new story during the workshop. We'll also discuss ways to get your story out in the world including recommendations for short story contests that fit your genre.
To receive the latest information about events and workshop dates, please send your email via the form below.
If you're interested in 1 on 1 book editing, please reach out.