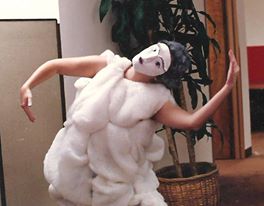 music
With decades of experience writing, singing, arranging, recording, and teaching music, Pamela centers her music on the human voice.
Her current focus is on live performances and collaborations. Please feel free to reach out if you'd like to work with her.
books
Though she's been writing poetry for decades, Pamela finally ventured into writing science fiction in 2019.  Her trilogy, the Visitor Series, has its first book completed.
She is a member of several writing groups, and a member of the legendary Voice Two critique group.
Past Participle
Some of these are available, others exist only in archive form.
Living Backwards

"West Coast avant-garde vocalist Pamela Zero has more than extended techniques and unusual vocalizes in here: she also has some moving songs.  Zero explores different techniques, different settings, and different influences in each song, but these details appear only after a few listens. The listener's attention is first grabbed by the melodies and the lyrics. Songs like "Physics," "Gallica," "Mercy" and "Present" provide highlights that will entice connoisseurs of the female voice. A lot of work and studio time obviously went into Living Backwards: the number of vocal tracks is staggering when you start to listen up-close, and kudos go to engineer Justin Weis for mixing them all down. Yet the music conveys a wonderful sense of simplicity and immediacy -- which is all the more surprising coming from a member of one of the most obscure avant-garde artists' collectives in America. Simply beautiful."
Attack of the Absolute Zeros
"The Attack of the Absolute Zeros is one of a kind. Presented as a "free jazz non-opera," it blends spoken words, vocal experiments, free jazz, and sound art with a narrative that feels like a postmodern version of Invasion of the Body Snatchers. This first music production was collectively conceived by the three members of Discord Aggregate, although one can easily assume that singer Pamela Zero took care of the musical compositions, while writers A. Molotkov and S.B. Reda handled the libretto. This time around the trio reached out for studio musicians: guitarist Byron Rynes, saxophonist Zeppi Salerno, keyboardist Scott Mayfield, bassist Tony Johnson, and drummer Jason Willard were brought in to add flesh on some numbers, representing about half of the album. The remaining half features complex textures of vocals, spoken or sung." (Franco)
Given Time

"I had forgotten why I'd bought her music when I put these on my stereo again. At first I was just wondering what I'd seen in them, but quickly I found myself remembering. This music is quite captivating in its strange harmonic (mostly a cappella) vocal weavings. Sometimes purely beautiful, sometimes pushing the experimental edge, sometimes wry and humourous, always individual and charming. Not everyone will love these, but I do." (Neile)